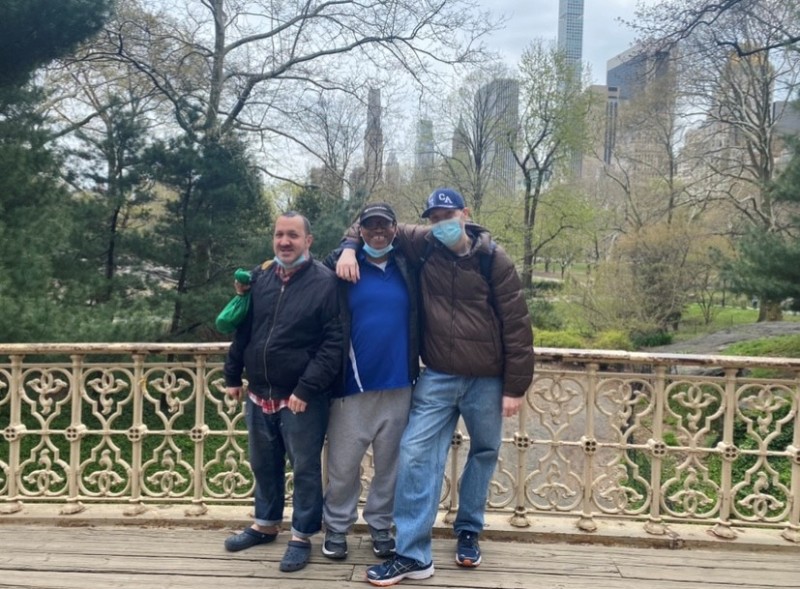 In the summer of 2021, more than a year into COVID, everyone in New York was ready to get out of their houses and explore their communities again. It was then that Kevin, who has been receiving support from The Center for Family Support for many years, started walking around New York City with other participants taking nature walks. Now, Kevin is the leader of the Walking Club, planning where to go and organizing the trips with the help of Yolanda, one of the CFS staff who support Kevin.
"We've walked around all around Central Park, Riverbank State Park, and downtown," Kevin said. On each walk, Kevin leads 6-10 CFS Community and Day Habilitation participants on walks for up to an hour, ensuring everyone is comfortable with the pace. As a native New Yorker, sometimes the walks bring up old memories for Kevin. "On one of our walks, I saw the carousel in Central Park. I used to go on it when I was little when I was in camp."
"Kevin and I will pinpoint specific parts of where we're going that we can stop by and talk about a little bit. The carousel was one of the biggest things for him," said Yolanda.
"I've been very happy that Kevin is hosting the walks – it's good for him. When he's leading the group, he's more active and having lots of fun," Yolanda explained.
Kevin is looking forward to planning many more trips, including one to the beach at Coney Island this summer, and growing as a leader. "His next goal is to speak to the group while he's leading the walk," said Yolanda. "We're going to visit each location before we go with the group and find three to four things that he likes so we can type something up about each thing, so he can talk to the group about it and have more interaction with each other and make it more interesting."
Kevin's Walking Club idea has also been expanded to Long Island, with participants there going on walks of their own. See some of their adventures:
VIEW OUR GALLERY BELOW